Heed quality note "QC ..." under the detail section!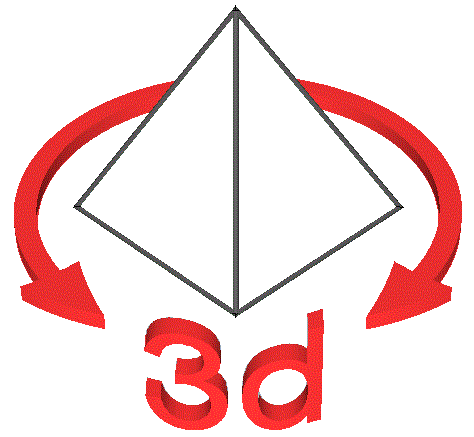 Turn model: Mouse key 1
Zoom in: Mouse wheel
Move model: Mouse key 2
Geometry
Solids with flat surfaces (polyhedrons)
Cube
Geometric representation - pure
Translation help wanted! Please copy the text to Google Translator to get a first translation. See 'Translations'!
Diese Serie von Modellen zeigt geometrische Objekte, die durch ebene Flächen begrenzt sind (die Polyeder).
Dieses und das folgende Modell zeigen den Würfel als geometrisches Objekt in seiner schlichten, strengen Schönheit - einfach so, zum Anschauen.
Hier ist der Würfel ohne alles Weitere als - undurchsichtiger - Körper dargestellt.
Die folgenden Modelle behandeln den Würfel im Sinne der Geometrie - Eigenschaften, Volumenberechnung und Oberflächenberechnung.
Übrigens:
In der Galerie ...
- können im Auswahlfeld 'Geom. Objekt' einzelne Objekte ausgewählt werden,
- kann im 'Freitext'-Feld z. B. 'Würfel', 'Pyramide' oder 'Kugel' usw. eingegeben werden, um zu einem Objekt alle Modelle zu sehen
- können im Feld 'Sortieren nach' alle Modelle entweder nach 'Mathematischem Gebiet' oder nach 'Geometrischem Objekt' sortiert werden.
300_18123
QC done
3D Object
Sources: - / -