Heed quality note "QC ..." under the detail section!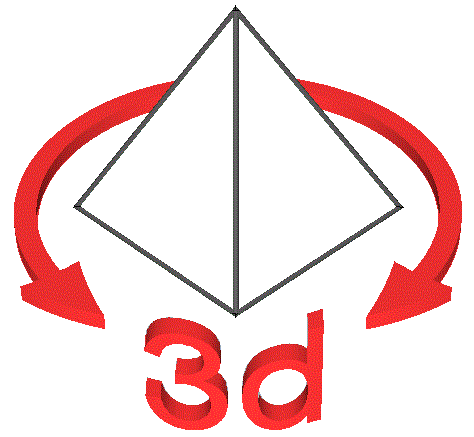 Turn model: Mouse key 1
Zoom in: Mouse wheel
Move model: Mouse key 2
Geometry
Solids with curved surfaces
Cylinder, trihedral
Solid - intersection with solid
Translation help wanted! Please copy the text to Google Translator to get a first translation. See 'Translations'!
Wir setzen die erste Serie von Verschneidungen und Durchdringungen von Körpern - dem Zylinder, dem Kegel und der Kugel - fort. Verschneidungen von gekrümmten Flächen folgen weiter unten.
Dieses Modell zeigt eine einfache Durchdringung des senkrechten Kreiszylinders mit einem Dreikantprisma. Es ist symmetrisch zur Mittelachse angeordnet.
Links ist die Ausgangslage zu sehen; in der Mitte ist zu sehen, was vom Dreikant 'übrigbleibt'; rechts ist zu sehen, was vom Zylinder 'übrigbleibt'.
Das Ergebnis ist nicht besonders überraschend.
302_22050
QC done
3D Object
Sources: - / -